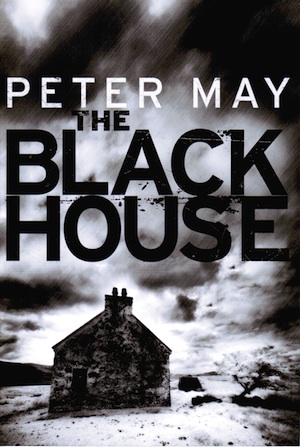 I've had a few more play dates with my Kindle; it's getting to be an addiction! And to think a few years back I truly thought e-books would never catch on. How wrong could I be?! I must admit, nothing beats having a brand new book in your hand, but if you read by the kilo and haven't much storage space, nothing beats an e-reader.
I've come across some more thrillers I like, among them the Black house trilogy by Peter May. It's about a detective in Scotland who is sent from the 'big smoke' to his home on the Hebridean island of Lewis, to investigate the death of a former school fellow. The books follow this and other investigations, and tell the story of an interesting protagonist and the island that is and was. The books are extremely well written, bringing the Scottish landscape, traditions, and communities to life. I had to read them all in one go, they were so gripping! I've also ordered Peter May's "Hebrides", a photo book of the area, as I hope there may be some shots of Barra and/or Colonsay, where my ancestors come from. More about that when it arrives.
The other book I've been reading is 'Tatiana' by Martin Cruz Smith. Smith's books follow the career of Arkady Renko, a Moscow-based senior investigator who has trouble fitting into the new Russia. He hasn't quite given up on his job and seems always to find a reason to solve just one more murder. This time, he investigates the suicide of a notorious journalist. The trail leads to Kaliningrad and an amber mine. I've read most of the Renko books, and believe Smith has not only captured some of the paradoxes of the modern Russia, but some of the soul of its people. I read his 'Havana Bay' recently and really enjoyed it.
Not a thriller, but quite a thrilling read, was Elliot Perlman's 'The Street Sweeper'. Perlman is an Australian author and can spin a good yarn. In the "street sweeper" he brings together people from very different backgrounds and teases out the political, historical, and personal circumstances that bring these people together, all on the streets of NewYork. It's a great book to read over a rainy weekend, with a supply of hot chocolate and some cool music.